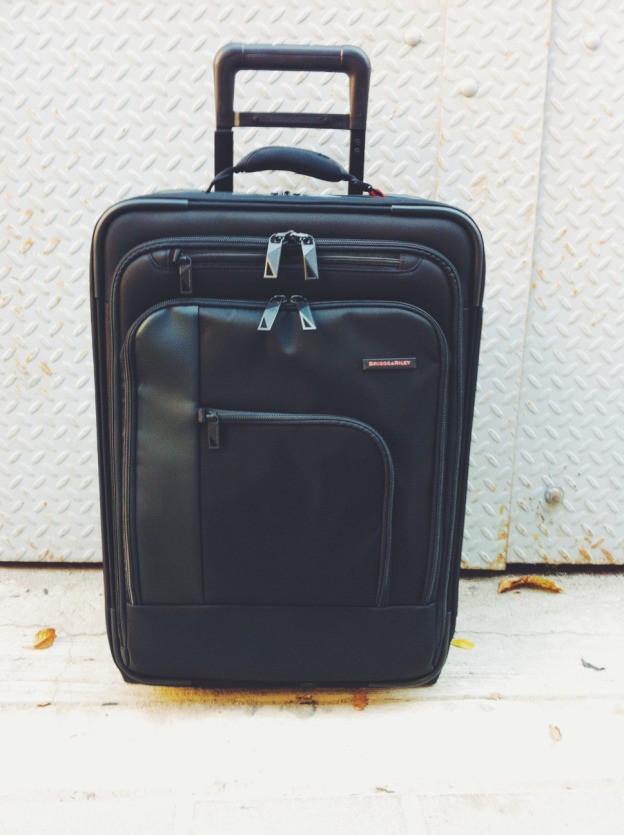 The Good: How about…"I can't find anything wrong with this bag!"
The Review: Ahhhh Briggs & Riley. There have been times when a company has taken a perfectly good bag and in the name of progess/change for the sake of change/sadism try and improve it…only for things to go horribly off the rails and they end up ruining their greatest creation. Guess what. THIS IS NOT ONE OF THOSE TIMES!! If the speed of the Pilot is measured in the number of units sold, then the new Briggs & Riley Pilot is well named, as it has quite literally rocketed (ok, not "literally" but you know what I'm trying to say) out of the starting gate. The reasons? The right bag at the right time.
I think frequent flyers are starting to second guess their oversized monster carry-on suitcases and are looking for a bag to legally and easily get aboard both domestic and international flights, which this does, and still provide a great amount of packing space along with some organization. Did someone just say organized? 'Cause this bag is kinda ridiculously well thought out. Where to begin. Well, lets start on the outside panel and move our way in. The front bottom pocket is felt lined allowing me to slip in an iPad mini. The pocket immediately behind that has an RFID proof passport compartment, slots for business cards, elastic straps for pens and folded cables, a slip for a power brick and along the back is a divider that is deep enough to hold loose 8×11 file folders or magazines. The straight zippered pocket you can see above the one just mentioned is my favorite. The opening is only 9 inches across, and it is very shallow, but is just perfect when going through security screening and you need to dump your pockets. Toss in keys, coins, watch, pens etc. Way better than leaving stuff floating around in the security tray. Have you stopped reading yet? No? Good, cause we are only half way done talking about this bad boy.
We are now at the main outside pocket. It opens up really nicely, can be locked if you'd need, is padded for up to a 17″ laptop, fits legal files and has file dividers in case you are traveling with that much work. Now, if you are still with me, the next outside pocket (thats #5!!) is on the back side of the suitcase taking up what would otherwise be wasted space, and is perfect for your mini Fulton umbrella. Don't have a mini umbrella? Well, ask the store your buying the suitcase from to throw one in, because they can come in pretty damn handy when you next arrive in Vancouver.
Ok, we're moving in. The interior of the bag is finished very fashionably with a heather grey lining, nice full packing straps to hold everything down snug, a small suiter on the lid to help keep about 4 button-ups on hangers and…like all Briggs bags…it packs flat. If you've never had a suitcase that packs flat you really don't know what your missing. It is soooo much easier. The Briggs & Riley Pilot measures 21.5x14x9 inches & weighs 8.1 lbs. Oddly, Briggs & Riley don't list the volume or interior dimensions of the case, but most travelers should easily be able to travel for 2-3 full days with the case, and then expand it (forgot to mention it expands) if you need to go for a little while longer. Expanded it wouldn't be considered a legal carry-on, but like you…I've seen people get away with much bigger!