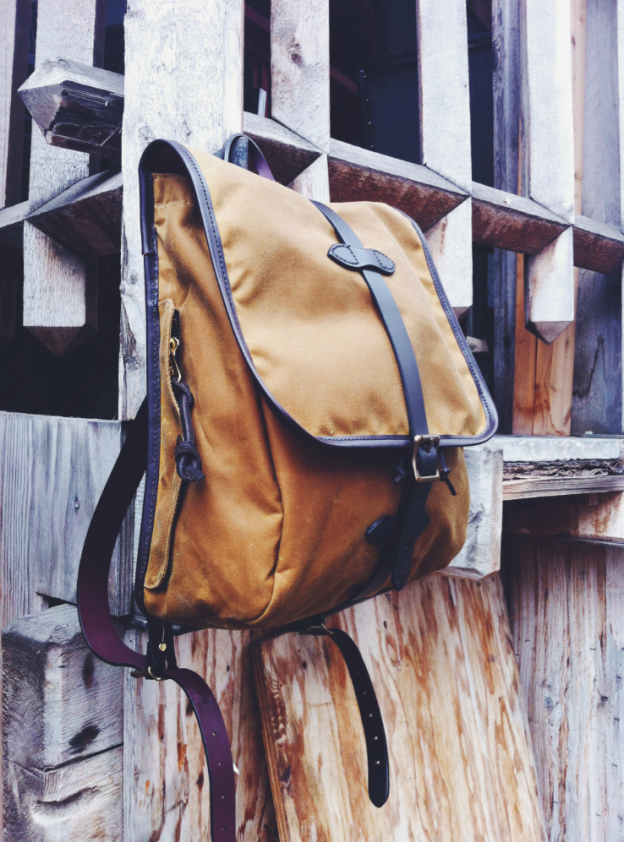 The Good: Water resistant cotton + harness leather + American Made = Amazing!
The Review:  We first reviewed this backpack back in 2013, now 3 years later it is still a store favourite that seems to only have gotten better with age! Possibly one of the nicest backpacks we have ever carried. Capable of converting any shoulder bag guy into a backpack lovin' guy.
The bag itself conforms to your typical everyday backpack/briefcase size (12x15x6 inches) which means you can fit in a laptop, some files or paper work, binder etc. or possibly a small change of clothing for the gym. Wherever you're taking the bag, we know you have a lot to carry, find satisfaction in the the durability and style of this bad boy.
The Filson Tin Cloth Backpack
comes with an interior padded sleeve, that is perfect for a tablet and is even easily removable if you decide you need the extra space.
If you like what you hear and see so far yet are still unsure about the accessibility through the closing buckles, I totally get it. Buckles can be frustrating to get in and out of, especially when in a hurry (no cheap speedy buckles here!), but there's no need for panic or compromise. Most customers end up loving the ritual, and Filson has taken this fear into account and provided a small zipper along the side of the bag that allows you to dig in and grab a wallet or keys without having to unbuckle anything. How cool and unique is that?! They've really thought of it all. And don't you worry about sticky fingers, because Filson has included a snap-closure flap that neatly covers the side zipper when on the go.
Filson do not list volumes for their pieces, but comparing this with other bags that do, I would guess this bag is exactly 23 liters(!?). The main compartment is larger than it appears and is more than capable to hold your everyday necessities. Like all Filson bags, the Tin Cloth Backpack really needs to be used before it comes into its own. Soften up the leather, beat up the canvas and you will have yourself an amazing backpack.