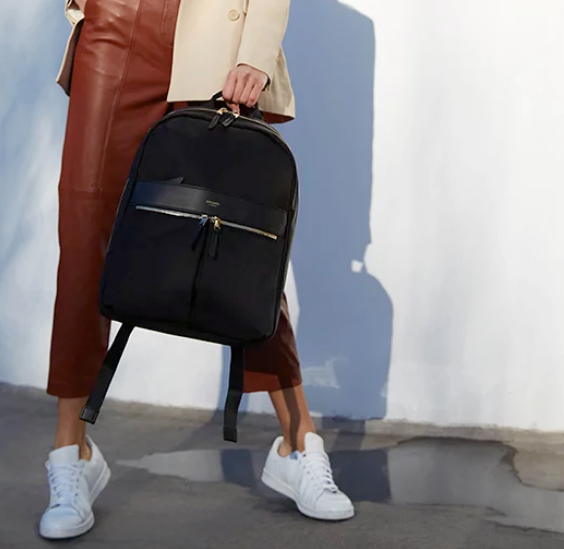 Need a backpack that can take you from the gym, to the office, to an evening drink? Look no further than the Knomo Beauchamp. This bag aligns with Knomo's mission statement of creating bags that are beautiful on the outside but perfectly designed on the inside.
Made of sturdy Nylon with Full Grain Leather Trim, this backpack is sleek and stylish. Gold detailing on the zippers and zipper pulls provides enough flash to transition this bag from day to night.
While not completely waterproof, the Beauchamp can definitely keep your belongings dry during some light rain.Three pockets sit on the front of this bag - one pocket extends the length of the bag and two smaller pockets sit in front. The larger pocket is great for travel documents and passports, or your wallet if you're using this bag day-to-day. The two smaller pockets are great for keys, phone and cards - one of them is even RFID protected. With a 10.5L capacity, this bag is big enough to fit everything you may need for a day of work or travel, without giving you too much space to overpack - this slimline bag stays slim even when fully packed!
Open up the bag to find a bright red interior, equipped with just enough pockets to keep you perfectly organized. The padded laptop pouch can fit up to a 14" laptop, and the slightly more shallow pocket in front of it is great for notebooks and magazines. On the other side of the main compartment, there is a deep zippered pocket that's great for smaller items like pens or gum. So, if you're looking for a bag that can suit any occasion while fitting all your daily essentials, we think the Beauchamp is the perfect bag for you!