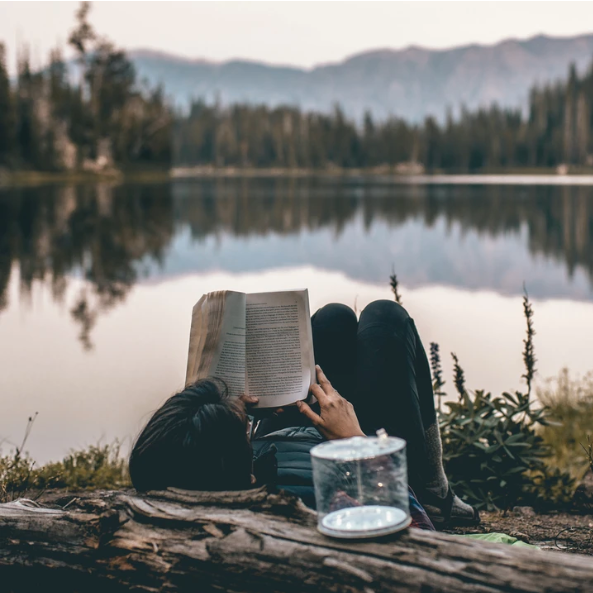 With the temperatures rising, visions of outdoor summer adventures are becoming clearer and plans are starting to be made. With the ongoing situation we've found ourselves in, we're not sure what the summer will hold. Our plans will look a bit different than what we may have imagined, but we still encourage everyone to find a way to spend time outdoors, in a safe and respectful way. To help you enjoy the outdoors as much as possible, whether it be hanging out in your backyard, going out for solo hike or heading to the cabin for the weekend, we've compiled a list of our Top Outdoor Essentials to make sure you're ready for whatever mother nature has to offer.

1. Luci Solar Lights
Whether you're going camping or just sitting out in your back yard, Luci Solar Lights are sure to come in handy this summer. Their inflatable solar lights come in a few different sizes and with a variety of features variations. The pocked sized EMRG Light is great to keep in your backpack or in the glove compartment of your car in the case of an emergency. It has 5 light settings, including a flashing light, an S.O.S, a steady red light, as well as a steady bright and dim white light. We also love their string lights to hang on the side of your tent, or string on your
patio. This 18-foot string of lights can also be charged via USB and can last 50 hours on a single charge, keeping your space bright all night long. All of Luci's lights are very bright, last for hours recharge with direct sunlight.
2. VSSL Outdoor Utility Tools
VSSL is an outdoor brand that creates sets of essential gear and packs them into a compact tube so you have everything you need without having to carry much. Whether you're hiking, camping or cycling, VSSL has surely curated a set for you. Perfect for any situation, we love the VSSL First Aid 2.0 Adventure Ready First Aid Kit - throw it in your pack before a hike, or keep one stored under the seat in your car so it's there should you need it. This set includes a light, a compass, tape, bandages, steri-strips, disposable thermometers, antiseptic towelettes, celox hemostatic agent, antibiotic and burn cream, aspirin, advil, tweezers, an emergency whistle, safety pins, gauze pads and medical gloves. All that in a 9" long tube!! We also love their Camp Supplies Adventure Kit, perfect for any camping adventure.
3. Water Purifiers
When traveling, especially in remote areas, access to clean drinking water can sometimes be a concern. That's why GRAYL has released a line of water purifying water bottles! If you're unsure whether the tap water at your camp ground is safe, or run out of water on a long hike where the only water source is a river, GRAYL's technology will remove viruses and bacteria, filter out metals, chemicals and particles to ensure the water is safe to drink. Simply
fill the bottle with water, press down the filter and enjoy! If you don't have the space to carry a water bottle, we also love the Life Straw! As it is just a straw, it's smaller and lighter than the GRAYL bottles but provides the same function. All you have to do is dip the straw into a water source and as you drink, the straw filters the water.
4. Sunbum Sunscreen & Skin/Hair Care
This cruelty free, gluten free and vegan brand offers a wide range of products to help protect you from the summer sun. On top of carrying classic Sunscreen lotions and sprays, Sunbum also has lip balms, shampoos and conditioners, cooling sprays, and a plethora of other products to keep you safe so you can enjoy the sun for longer. Their products are Reef Friendly and don't contain any sulfates or parabens, meaning they're safe for you, and for the planet. Sun safety is extremely important therefore, we recommend ensuring you're using the SPF amount that is recommended to you and to reapply often.

5. Fulton Umbrellas
There's no reason why a bit of rain should stop you from enjoying the outdoors, and Fulton makes sure you can! Whether you need a compact umbrella to bring with you just in case you get caught in the rain (try the Minilite), or an ultra-durable windproof umbrella to keep you dry in a storm (try the Windbreaker), Fulton has it all. From clear umbrellas seen used by the Royal Family, to a classic black umbrella and every pattern in between, Fulton also makes sure that carrying an umbrella can be as fashionable as possible. Don't get stuck in the rain, pack a Fulton Umbrella!
We hope these products help make this your most adventurous and safe summer yet!