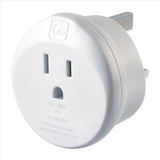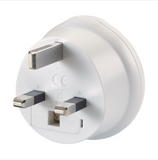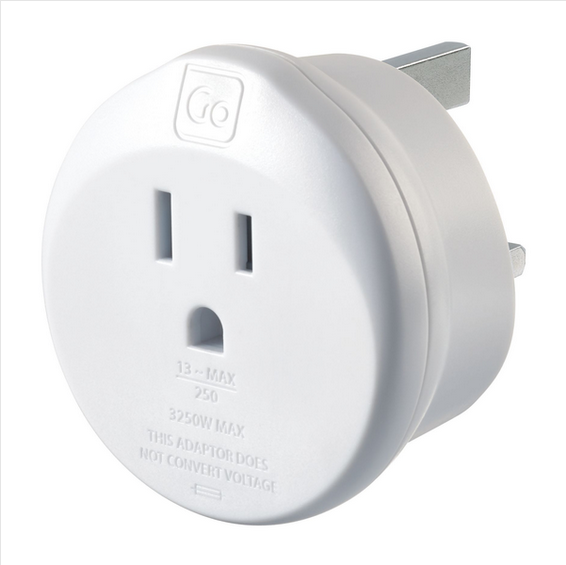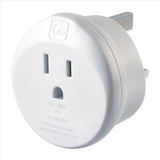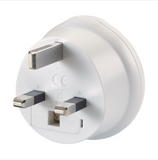 Go Travel Americas to UK Grounded Adaptor
View all Go Travel Products

Details
Safety Declaration - CE : Conforms to EU safety directives, WEEE
Caution - Does not convert voltage, Only plug in Dual voltage Appliances (Rated 110-240V) into this Adaptor. DO NOT USE with Appliances only rated at 110V:
Electrical Rating - 250v (max 13 amps):
Product Size Closed (mm) - W 57 x H 59 x D 54:
Description
Designed for American travellers visiting the UK, this travel adapter converts American 3-pole earthed plugs to fit UK sockets. Sleek, compact and light, it is simple to use and easy to pack.
Features
Earthed adapter for American travellers to the UK
Certified to new safety standards (BS 8546)
Suitable for use with small electrical devices
Compact & lightweight
Safe & easy to use
Country Compatibility
Adaptor Input by Country: USA
Adaptor Output by Country: United Kingdom, Abu Dhabi, Bahrain, Bangladesh, Belize, Bhutan, Botswana, Brunei, Burma ( Officially Myanmar), Cambodia, Canary Islands, Cyprus (North), Cyprus (South, Dominica, Dubai, Ethiopia, Falkland Islands, Gambia, Ghana, Gibraltar, Great Britain (GB), Grenada, Guyana, Hong Kong, Iraq, Ireland (Eire), Isle of Man, Jordan, Kenya, Kuwait, Lebanon, Macau, Malawi, Malaysia, Maldives, Myanmar, Nigeria, North Cyprus, Northern Ireland, Oman, Rwanda, Saint Helena, Saint Kitts and Nevis, Saint Lucia, Saint Vincent and the Grenadines, Saudi Arabia, Scotland, Seychelles, Sierra Leone, Singapore, Somalia, Somaliland, Sri Lanka
*always check with local operators as electrical outlets in individual locations can differ.