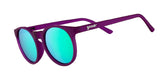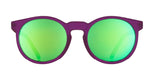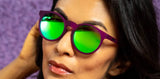 Description
Introducing the new Circle Gs! We designed these shades to look good and fit comfortably on your face whether you're doing squats with a dog in your arms or sipping a nitro cold brew.

What's the difference between vintage, antique & retro?

Vintage: "characterized by excellence, maturity, and enduring appeal; classic," with true vintage at 50 years old.
Antique: "an object having special value because of its age," at least 100 years old.

Retro: "Involving, relating to, or reminiscent of an earlier time; retrospective," imitating a style at least 10-15 years old.

That means these sunglasses are retro but we named them Thanks, They're Vintage so you have to lie to everyone and say they're 50 years old. Good luck.