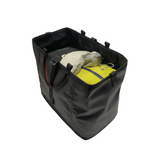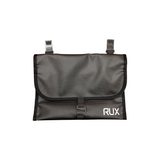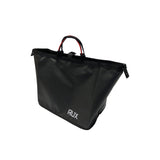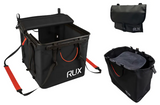 Description
Get the most from your RUX 70L, and save per item while you're at it. Includes 1x RUX 70L, 1x RUX Bag, and 1x RUX Pocket.
RUX 70L
RUX is a compressible, weatherproof bag with a wide rigid opening for easy gear access, a stowable lid to secure your gear, modular straps for easy carry, and infinite component potential for versatility.
RUX Bag
Easy to pack 'n grab 25L bag that nests inside the RUX 70L, featuring a hook closure to secure your gear and RUX Connect buckles to further secure the bag to the RUX 70L. Two fit inside one RUX 70L. Sold as singles.
While it's part of the RUX system, this Bag is highly versatile and incredibly handy for everyday use from the market to the campsite and everywhere in between.
RUX Pocket
Weather resistant 3L pocket to organize small items in your RUX 70L.
RUX Connect buckles allow you to easily attach the Pocket to the inside or outside Utility Rails on your RUX 70L. Alternatively, RUX Hooks allow attachment to the Waterproof Bag.
While it's part of the RUX system, this Pocket is super convenient on its own for everyday carry or travel use. 
Features
RUX 70L
Padded removable tri-fold lid with. The trifold creates easy access. 
Lid secured with rainproof elastic closure.
Utility Rail to attach components or lash to racks.
Corner supports pop up to pack. Flat packs.
Compression straps & Extra lid security.
Adjustable straps for multi-mode carrying.
Weatherproof.
Clear window to see contents.
Puncture resistant base.
RUX Bag
Secure cinch closure
Mesh flap pocket
Internal auxilary pocket
RUX connect buckles
Webbing grab handles
RUX Pocket
RUX connect buckles
Hypalon snap tabs
Mesh divider pocket
Grab handle
Reinforced weatherproof design