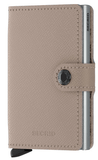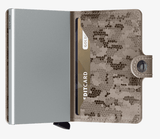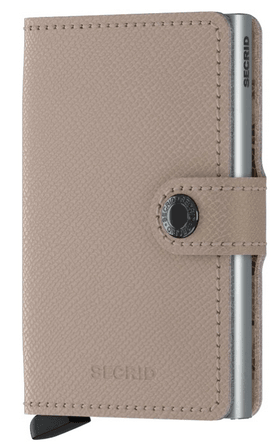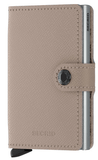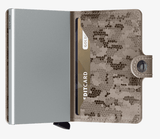 Secrid Crisple Taupe Mini Wallet
Item #MC-Taupe Camo (disc)
View all Secrid Products

Details
Material: Aluminum, Leather
Description
*Free Monogramming Available!*
 Based on the Secrid Cardprotector, the Miniwallet is both compact and secure. In addition to the cards in the Cardprotector, the interior leather slots offer space for a few cards, receipts, and some coins. The plastic insert allows you to easily fold up some cash, and the front snap closure ensures all of your belongings are safe and sound.
Embossed with a fine Saffiano print, Crisple ensures a long-lasting feeling of luxury. This leather is resistant to staining and scratching.
Crisple is corrected-grain leather, made in Holland from European cowhide.
Features
RFID blocking aluminum core
Fits 5 cards, 4 embossed and one flat card in aluminum
Felt grips on the interior on either side prevent the cards from falling out
Lever mechanism on bottom, when pulled down, cascades credit cards out of the top of the wallet in a staggered fashion for easy access