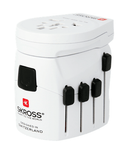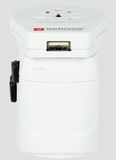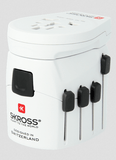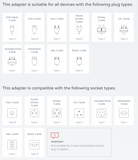 Description
The most powerful world travel adapter for travellers from all over the world
The compact 3-pole travel plug with an integrated USB charger for travellers from over 220 countries. Suitable for connecting even powerful devices such as laptops and hairdryers anywhere in the world.
Compact, universal genius for worldwide use 
When travelling abroad, tablets, shavers, laptops and the like often struggle to keep up with you – unless the SKROSS® world adapter PRO - World & USB provides the necessary energy!

The unique, compact 3-pole adapter can be used in over 205 countries on all continents to connect 2 and 3 pole devices from all over the world.
Multitasking for your travel companions
The compact, versatile PRO - World & USB from SKROSS® can do everything you want it to, all at once. While the adapter provides the correct connection for your laptop, the USB charger module can top up the battery on your smartphone or your tablet.
Features
Designed in Switzerland
Suitable for equipment with earthed & unearthed plugs (2- & 3-pole)
Input plugs: Europe (Schuko & 2-pole Euro), Australia/China, UK, USA/Japan, Switzerland, Italy, Brazil
Output plugs: Europe (Schuko), Australia/China, UK, USA, Switzerland, Italy, Brazil
Input voltage: 100 V – 250 V, 50/60 Hz
Max. load: 6.3 A
Power rating: e.g. 100 V – 630 W / 250 V – 1575 W
Replaceable fuse: T 6.3 A
USB Type-A output: 5.0 V DC / Max. 2.4 A, Max. 12.0 W in total
Average active efficiency: 81.8 %
Efficiency at low load (10 %): 76.3 %
No-load power consumption: 0.05 W
Does not convert voltage
Save
Save
Save
Save
Save
Save