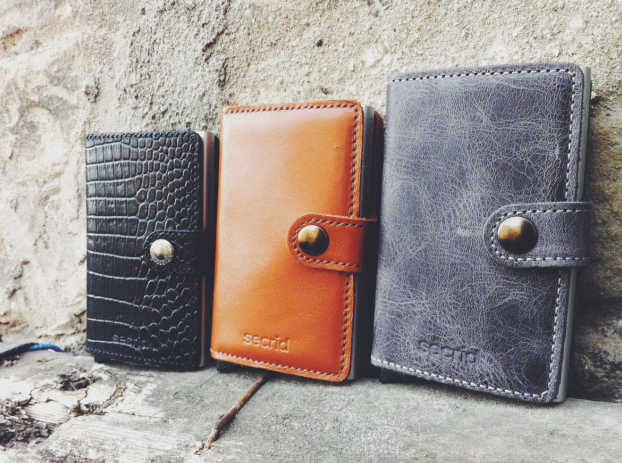 The Good: Compact + Ingenious Design = Best. Wallet. Ever.
When you were a kid, ever wonder what would happen if you crossed a switchblade with a wallet? I did, and finally, Secrid have arrived to answer that ever burning question! The RFID blocking feature is nice, but definitely not the only reason to be considering a Secrid wallet.
The RFID blocking aluminum core fits 4 credit cards + 1 flat card such as a drivers license or hotel room key. The leather fold out has two slots and is great for extra credit and health cards, points cards etc. that are not used as often (or RFID enabled), the plastic insert allows you to easy fold up cash for quick easy paying. When you need a card…uh oh…look out! This wallet has a hair trigger! You can pay your tab faster than ever, and look super cool doing it! Simply pull down on the bottom lever and your cards will cascade out the top in a staggered fashion making paying those bills, a breeze! It is very compact, and so fits easily into most pockets or purses.
There are a few different versions, but the Slim Wallet without the snap is by far the most popular for guys or any front pocket wearer and most women prefer the Mini with the snap so they can drop it into a handbag without it spilling open. If you need to carry more cards, there is also an option for the Secrid Twin that carries twice the number of RFID enabled cards.