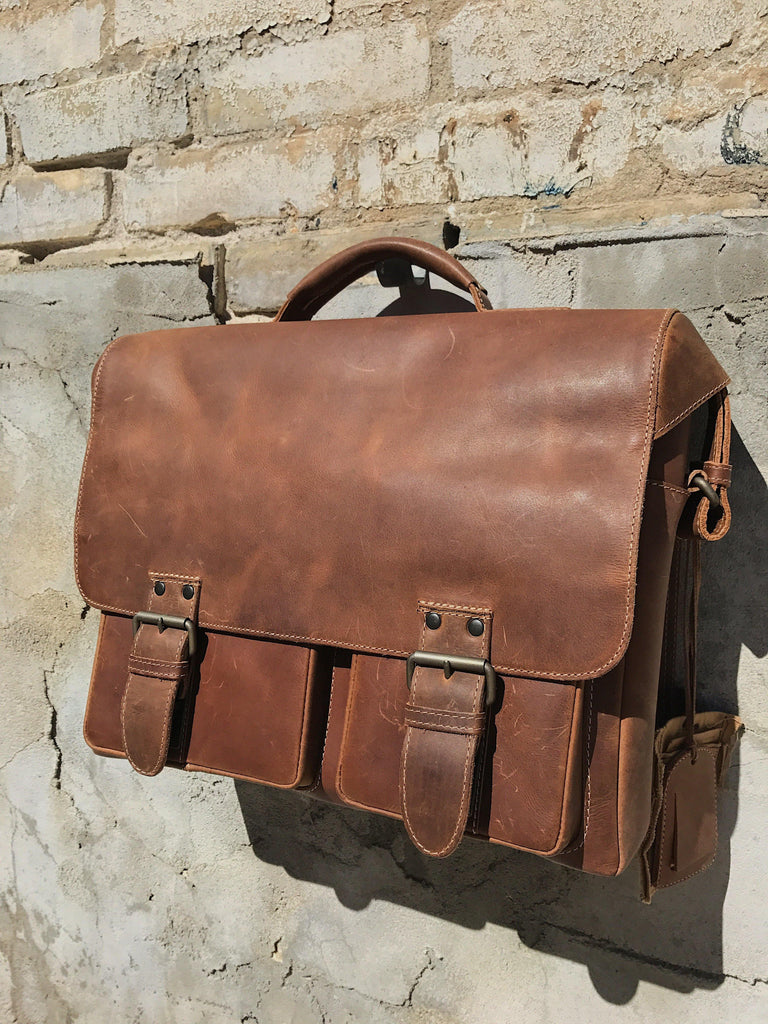 The Good: Classic style in a brand new brief!

The Review: A best seller at U.N. Luggage, the Aunts & Uncles Finn Business Bag is the handsomest bag in town! If you are a fan of classic bikes, classic books & classic boots...this should be your very own classic bag. A good lookin hardy briefcase built with a distinctive wear-in leather that only looks mo' better the mo' you use it. So you should!
Nice bold buckles of the speedy variety make the bag very easy to open and close (no need to actually "unbuckle") and behind them you can slip your hands into its sharply organized pockets, one open and another that can be snapped shut.
The main body of the bags interior divides into three sections; one padded for your laptop, one zippered and one larger open compartment for dropping in files, magazines etc.  Anything you want easy access to? Store that stuff you can't keep your hands off of in the zippered pocket at the back of the Finn. The shoulder strap is fantastic. Some bags shoulder straps come across feeling a little dainty (full disclosure; I'm not a fan of thin belts either) but the Finn has a nice wide leather and canvas strap that looks like a part of the bag, and not an afterthought, which adds to the ability to wear it cross-body when you're not toting it in your hand.
Something tall and dark as well as handsome more to your tastes? Aunts & Uncles Finn comes in vintage tan and a dark espresso. I can guarantee that once the Finn catches your eye, you'll be taking him home!
I should mention the Finn has a bigger brother called, what else, the "Big Finn" which works well to fit in larger laptops and just mo' stuff.