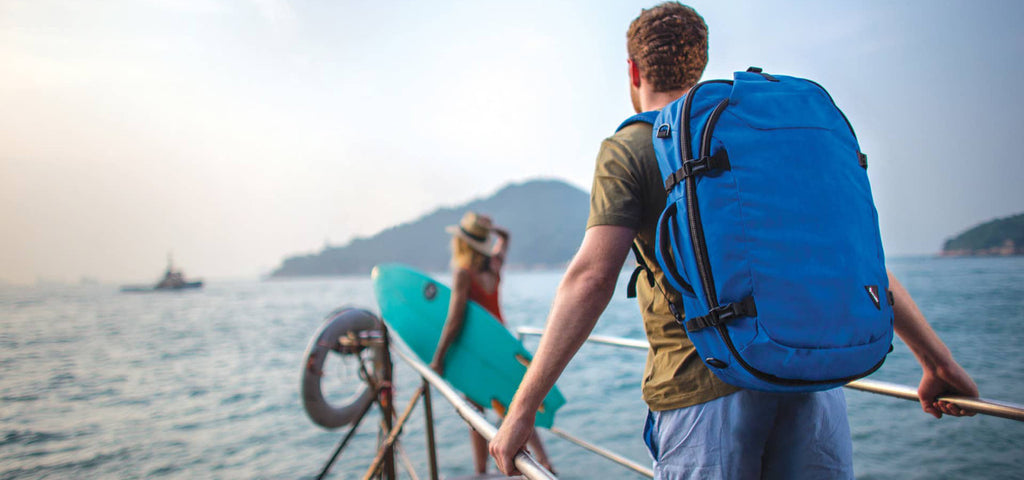 It seems as though Travel Backpacks have taken over the role their wheeled counterparts once held, especially for those wanting a versatile, lightweight, and convenient bag for their travels. Thanks to their ease of carry, you don't have to worry about lugging a heavy wheeled bag up flights of stairs or rolling it over uneasy terrain; simply toss it on your back and be on your way!
Things we like to consider when shopping for a Travel Pack:
Size: This may be one of the most important factors when deciding on your next Travel Pack. We have found the 35-45L range to be the sweet spot! The biggest benefit of this size being that it fits onboard most major airlines, meaning you can get in and out of the airport faster, avoid checked luggage fees, and sustain less damage to your bag over time as it won't be being tossed around by baggage handlers. Another bonus is that you can't really over-pack it! This size allows you to pack only what you need, keeping the bulk and weight down, which in turn reduces the strain on your back. Win-Win!
Material: Finding a pack with water-resistant (WR) fabric is key and will go a long way in ensuring that your belongings stay dry should you ever get caught outside in the rain. Keep in mind, that water-resistant is not the same as waterproof. That being said, unless you know you'll be traveling in the rain for an extended period of time, or plan on going deep-sea diving, pack in tow, the water-resistant option should more than suffice.
Security: Sadly, this seems to be a feature that is becoming more and more pertinent; however, luckily for travelers, many brands are jumping onboard with security features that'll keep your belongings safe and secure. One major thing to look out for is lockable zippers, or "kissing zippers" as they're sometimes referred to as. These zippers have a circular component built in to each pull that allows the two zippers to connect when they meet, locking them together. If you choose to lock your bag, it's always smart to consider a TSA approved lock, which allows border agents to search your bag, should they need to, without breaking off the lock. Lockable zipper pulls don't stop thieves from cutting open your bag or piercing through the zipper itself, but they are designed to be a deterrent, and when you're wearing it on your back, it's nice to know that someone behind you can't easily gain access to your valuables.

Organization: Being organized when you have all of your gear packed in to one bag will help you save time and energy when trying to access what you need. It can also help keep your belongings clean, dry and in better condition. Features to look out for include, a wet/dry pocket for dirty laundry/muddy shoes, mesh dividers to separate clothing & accessories, and a large front pocket for toiletries and cosmetics. Traveling with a laptop or tablet? Most bags are now equipped with a padded section to keep your devices safe.
Hip Belt: If your pack fits you properly, the majority of the weight should be resting on your hips. Having a sturdy, padded, adjustable hip belt will lend you extra support and help evenly distribute the weight in your pack, saving your back from unnecessary suffering!
With so many packs to choose from, how to you know which one is right for you?
We've taken out the guess work and compiled a list of our Top 5 Favorite Carry-On Travel Packs. While there is no one "perfect pack"  that is going to satisfy every person's wants and needs, we're confident that you'll be able to find the right one for you in the 5 that we've chosen as they are some of the best available!
Ways to Carry: Backpack, Shoulder Bag, Duffle
Osprey's Farpoint 40L is by far our best-selling backpack. If you're looking for great value, the Farpoint/Fairview series offer some of the best bang for your buck, part of that being Osprey's Lifetime Warranty. This warranty covers any damage that may occur - no matter the cause or the age, Osprey will fix up your bag or replace it for you. The padded shoulder straps, hip belt and comfortable, lightweight suspension of this bag make it easy to carry around, and it's 6 adjustment straps ensure you can tailor it to fit your frame just the way you want it to. All straps tuck away when not in use for easy storage.
Other features include:
Dual front compression straps
Internal straps
Laptop sleeve
Padded handle
lockable zippers
3.17lbs
Ways to Carry: Backpack, Shoulder Bag, Duffle
A classic! Based on the original MLC, the Black Hole version is made with 100% recycled polyester ripstop fabric and is coated with TPU-film laminate, one of the more durable, water-resistant materials on the market. It's 17" padded laptop compartment sits against your back, meaning no one can access it from the front, keeping your devices safe and sound.
Other features include:
2 Separate packing compartments
Front organizer pocket
Pass-Through allows for it to slide over pull-up handle
Straps all tuck away
Padded 17" laptop compartment
3lbs 10.4oz
Ways to Carry: Backpack, Shoulder Bag, Duffle
Business meets travel. Thule's 40L Subterra is a sleek travel pack that provides excellent organization. It's shoe/laundry compartment allows you to keep dirty gear away from the rest of your clothing. It's also very tech-friendly - a removable laptop/tablet sleeve allows you to carry your devices separately, and all of your cords can be neatly organized in the PowerPocket.
Other features include:
All straps tuck away
Zippered mesh divider,
Top/Side/Bottom grab handle for easy carrying
Pass-Through allows for it to slide over pull-up handle
Quick access pocket
3.5lbs
Ways to Carry: Backpack, Duffle
If security is what you're after, this is the bag for you. Pacsafe's Venturesafe EXP45L Backpack is durable and packed with anti-theft features. It comes with a stainless steel locking cable, making it the perfect pack for train travel or hostel stays. Say goodbye to sleeping with one eye open and go on, catch that shut-eye! With this bag you'll have the peace of mind knowing your belongings are safe and secure.
Other features include:
Exo-mesh lining = slashproof
Lockable zippers/Puncture-resistant tough zip
Roobar locking system
Stainless Steel locking cable (perfect for hostel stays)
15" laptop/tablet
Padded adjustable straps
Sternum strap
Waistbelt
Internal compression straps.
3.13lbs
Ways to Carry: Backpack, Shoulder Bag, Duffle
Nomatic's Kickstarter campaign for this bag raised MILLIONS of dollars, causing quite the hype - what's it all about? This sleek, urban style pack is SO feature rich, and thoughtfully designed for any tech traveler. If organization is a priority for you, look no further!
It's features include:
Padded straps
Sternum Strap
Detachable hip straps
Interior RFID pocket
Laundry bag
Shoe compartment
Cord organzier
Durable Water-Repellent Material
Slides over pull-up system of suitcase
Laptop compartment
Water-bottle Pocket
Fleece lined pocket for valuables
Here are some tips to get the most out of your packing space!
Pack only must haves! While there are always things you "think" you'll need, most of the time, you never end up using them and they take up valuable space. Try packing only the bare essentials - chances are, if there's something that comes up, you'll be able to get it wherever you're going.
Don't pack more than a weeks worth of clothing, especially if you have access to a washer/dryer. You're not likely to see the same people everyday when traveling, so go on and wear that outfit two days in a row, no one will notice!
Roll clothing - this style of packing leads to fewer creases in your clothing, and more space in your bag! Packing Cubes are a great way to organize and ensure that your items stay nice and tidy.
Not sure what to put in the front pocket of your pack? Toiletries are a great option! Some packs offer a wet/dry pocket on the top/front of the bag, ensuring that if your lotions or liquids spill, they won't get all over your clothing inside. This pocket offers super easy access, good for things you may need to grab in a hurry, like a travel towel, or wet bag!
Still undecided? Give us a call and we'll help you find the right Travel Pack to suit your needs! 1-855-943-1068
Tags:
Top 5
,
Travel Backpack
,
Travel Blog
,
Travel Pack