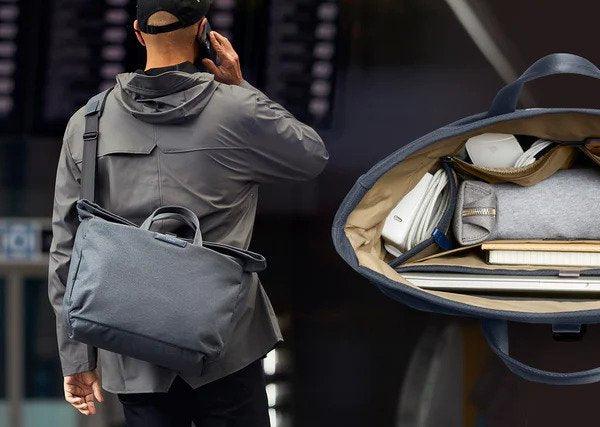 The Bellroy System Work Bag is an excellent messenger bag to get you from your busy day at work, but also the gym and casual outings. With its excellent assortment of pockets, you can keep yourself organized while also storing a surprising amount of stuff! Bellroy's decision to do a magnetic top closure instead of a zipper is the highlight of the bag for myself as it allows much quicker access, saving a lot of time for how often I am moving my belongings in and out. In addition to the magnetic closure, it has a hook strap that can secure the top closed when you need to get on the move. The bag not only has a large main compartment, but also has a zippered pocket on the front and back for easy access items like wallets, and even passports if you need a quick travel companion!
The Colors offered are great, ranging from the uniquely textured blueish-grey basalt, the good 'ole fashioned charcoal - a deep grey with cognac accents as well as the classic midnight color, providing a sleek and striking black. For some, the colors could be lacking in diversity and I would love to see some beige's, blues, or even greens to shake up the mostly grey and black messenger bags.
The Work Bag does a great job of being at work - on the bike or just in the passenger seat of your car! With padding added in essential places, you can be assured that your laptop, Ipad and valuables are safe and sound. Not everything is perfect though, most notably the shoulder strap does leave some improvement to be desired as the latches can be quite hard to attach and detach. However, since I have not needed to detach it a single time it isn't a big deal! Additionally the material is quite basic but still provides enough comfort to wear for prolonged periods! Overall I highly recommend this bag, its quality and usability are truly top-notch for the price, if this review has piqued your interest and you want to see the bag for yourself, please swing by our store and see it for yourself!