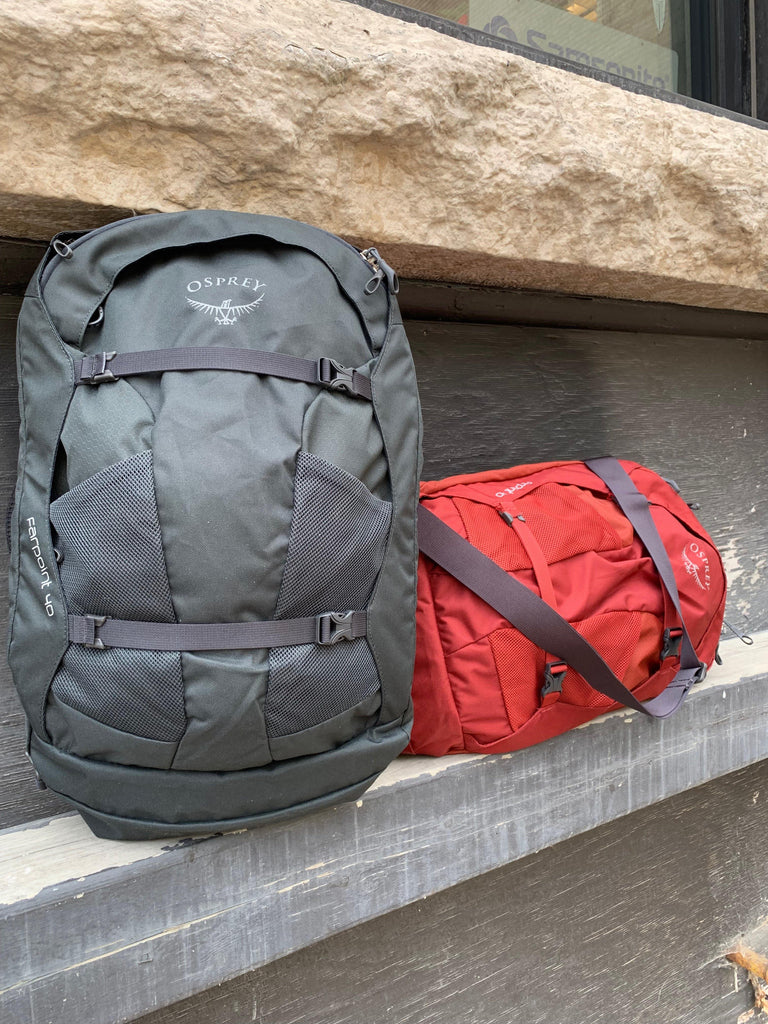 What's Hot: Ospreys Farpoint 40L backpack is a no-wheels carry-on, meant to get you from point A to point B (and all the stops in between) with as little resistance as possible. First, we'll do a rundown of the features to look out for on this backpack.
The packing dream: This travel backpack is meant to be as efficient for packing as possible, which means aside from the large main pocket, there are many sub-pockets for specific items like, shoes, laptops, water bottles, and more. This ensures when you stop to open your bag, there won't be any funny business while searching for packed goods. Lastly, the front compression belts make sure even if the bag isn't stuffed, you can tighten the front pocket to make sure your stuff doesn't move on the go.
Adjustable straps: Straps are of course- meant to keep the pack on your back. All straps on the Farpoint are fully adjustable, ensuring everyone can create the right fit for themselves. These same straps can also be zipped away for convenience when stowing away in a car or a plane. There are also hip straps to help take some of that weight off of your shoulders in case you want some extra support.
Emergency Whistle: Whether at night or in a sketchy area, the Farpoint has a built-in discreet emergency whistle. Designed to grab the attention of passersby in a wide radius if you catch yourself in a situation you need to escape from.
Options: The bag comes in S/M or M/L. The size doesn't actually affect the bag itself but changes the fit of the backpack's straps. In our store, we've found customers that are under 5'8, typically are more comfortable with the S/M, and the taller lads and ladies go for the M/L size. In terms of colours, the bag comes in the bright and adventurous Jasper Red and the cool and calm Volcanic Grey. If 40L isn't quite enough for you and you're looking for a bag you can check the Farpoint also comes in 55L, 70L, and 80L. 
What's Not:
The style: When it comes to style, Osprey is a very classic and traditional brand. The Farpoint has been a massively successful bag, although its design has not seen any changes in 5 or so years. This does leave some innovation to be desired in terms of new fashion and styles.
Weather Technology: When it comes to weatherproofing, this bag misses the point by far. With competing brands like Patagonia's Blackhole MLC fitting many similar needs, the Farpoint does not utilize the same modern-day water-proof technology.
Conclusion: The Farpoint is one of if not the best travel bags you can buy. It leads and innovates in many ways, but does have a worthy rival in the Blackhole MLC from Patagonia. In terms of ease of use and comfort, we'd give the edge to Osprey. Osprey also offers a lifetime guarantee. Wherever you find yourself, you can contact them and they will let you know how you can go about getting it fixed or replaced. If you find yourself in Winnipeg, Canada hop on over to U.N. Luggage and we'll do the service for you!
Tags:
Backpack
,
farpoint 40
,
jasper red
,
Osprey
,
review
,
Travel Backpack
,
Travel Blog
,
Volcanic Grey